Thimphu, capital of Bhutan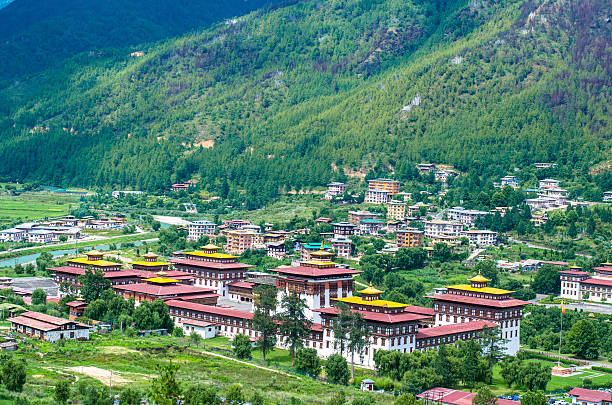 Thimphu is the largest city in Bhutan and houses the Royal Palace. It is also the fastest growing city where modernization is catching up fast and tradition and culture continue to remain a big part of everyday life.
Thimphu lies at a distance of 45 minutes drive from Paro international airport.
The city offers many opportunities for travelers to witness, observe and experience Bhutan. Ancient temples and monasteries can be seen on many hills in and around Thimphu.
The National Takin preserve is located at a 20 minutes drive from Kuenphen Rabten Resort. The Takin is the national animal of Bhutan. It was considered a mythical creature in the west until the 1990s.
The Buddha Dordenma, which is the largest sitting statue of Bhutan is also located in Thimphu and can be viewed from the hotel.
A short pleasant hiking trail runs right below this largest Buddha statue called the Debsi trek. This is one of the best hikes in Thimphu and on request of our guests, Kuenphen Rabten Resort can organize this hike.
Thimphu is also home to Semtokha Dzong, one of the oldest dzong (fortress) built by Zhabdrung Ngawang Namgyel in the 17th century. The Tashichodzong, another dzong located at the opposite end of Semtokha is the seat of Bhutan's secular and monastic administration.
In the main Thimphu city area, guests can explore places of interests such as the Folk Heritage Museum, the handicrafts shop and textile museums.
The centenary farmers market located near the Thim chuu (river) is another major attraction for travelers in Thimphu. Farmers from different parts of the country gather at the market to sell their vegetable items, dried meat, cheese, sausages, incense etc.
The most popular Thimphu Tshechu or the festival of mask dances is held on the 10th day of the 8th lunar month at the Tashichhodzong. Monks and laymen perform many mask dances, which has deep spiritual and religious significance.
Thousands of tourists travel to Thimphu during the tshechhu. Bhutanese people from all walks of life can be seen dressed in their finest traditional attire.